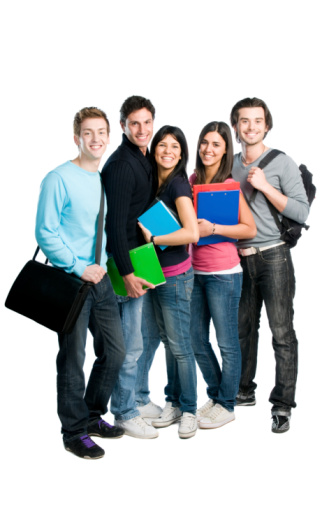 During the month of September, many of us are busy getting into the daily routine for the school year. Whether you're a college student or the parent of a college student, there are 10 gadgets and apps that will immensely help students living the college lifestyle.
The top 10 gadgets and apps have been chosen with student budgets in mind, with the most expensive item costing $200, and this list also includes free smartphone apps.
1.     Speck SmartFlex Card Case for iPhone 4/4S/5 or Galaxy S4
Many students tend to carry cash, their ID, and a credit card in their wallets but not much else. A card case for your cellphone would be a great idea for those living the busy student life. This flexible polymer case comes with an extra slot on the back, which holds up to three cards or folded bills. It also has a thumb slot to make it easier to push out cards when you need them.
The Speck SmartFlex card case is available for a low price of $34.95 for iPhone 4/4S/5 or $39.95 for Samsung Galaxy S4.
2.     Inkling interactive digital textbooks
Inkling goes a step further than standard e-books, creating an interactive textbook with features such as pop-out slideshows for illustrations. You can review sections with live links back to the places in the text where the specific topic were discussed, with self-assessment tools and much more.
Inkling titles can be accessed via a web browser on Windows PC or Mac, or via iPad and iPhone. Your work is synced among all of your devices. While there aren't a wide variety of textbooks available, the company's constantly publishing more and more.
You can purchase entire books or individual chapters starting at $5.99 each. In addition, there are sample chapters available at no cost.
3.     Pure Jongo S3 Wireless Speaker with Wi-Fi and Bluetooth Capabilities
Play any sound from your mobile device with this fantastic portable Bluetooth speaker, which includes a rechargeable battery. From stored music to Spotify to Netflix, the Jongo can even play multiple devices, so your friends can pair with the Jongo and take turns supplying the music.
Jongo can also be used as an Internet radio and educational podcast receiver when connected to Wi-Fi, with the ability to download the Pure Connect app for Android or iOS. It even has a standard Aux In jack for when you'd like to connect directly to your game system or computer.
The Jongo wireless speaker has a great sound and ability to play multiple roles, however, it isn't cheap. Purchase the device for $199.99, which may sound expensive, until you hear how fabulous the Jongo wireless speaker sounds.
4.     Lepow Moonstone Mobile Power Bank Portable Device Charger
This compact device houses twin USB ports to charge your mobile devices, regardless of where you are. It's available in five different colors and two capacities. During multiple tests, the 1200mA port provided enough power to bring an iPad 2 from 50% battery to 90% battery.
5.     EasyBib Bibliography App for iOS and Android
One of the most annoying aspects of writing a paper is preparing the bibliography. Especially in college, when your bibliography is marked as severely as your paper.
With EasyBib's free app, you can create a bibliographic entry in APA, MLA or Chicago style simply by scanning a book's bar code, or searching the title. Once you've found the book and created the bibliographic entry, email the citations to yourself and copy them into your paper.
At EasyBib.com, you can create citations for newspapers, websites and more. However, only MLA-style citations are free. If you're looking to get entries in Chicago or APA style, or use more advanced features, sign up for a MyBib Pro subscription for $4.99/month, $14.99/six months or $19.99/year.
6.     Tylt Tunz Stereo Headset
College students typically share a room, which means that when surrounding yourself with your own sounds you must block out the sounds of others around you. These ear buds do a fantastic job of canceling out your roommate's noise or obnoxious people in the hallways.
Get some work done with these great sounding ear buds available in five colors, with a flat cable that resists tangling and an on-cable microphone, for those phone calls that you need to be able to hear.
These ear buds include a little "coin purse" for carrying, as well as six sets of tips – three standard and three "active gel" – that will stay in place even during spots. Enjoy all of these great features for $39.99.
7.     Satechi Smart LED Desk Lamp
When you have roommates, a desk lamp can be great for nights when you wish to complete some homework or catch up on reading without bothering other people in the room. The Satechi lamp has a sleek design and energy-efficient LED lighting in four different color profiles.
One of the best features in this bedside lamp is the USB charging port on the back, which you'll appreciate when you need to plug in your phone. For $99.99, enjoy all the Satechi has to offer a college student.
8.     Microsoft Wireless Comfort Desktop 5000/Arc Wireless Keyboard
A wireless keyboard allows students to have the luxury of leaning back with the keyboard in their lap. The OS X and Windows compatible comfort desktop 5000 (available for $69.95) has curves that guide your arms and wrists into a natural alignment, with media buttons to control the volume of music.
If you're looking for something a bit smaller, look no further! At 12 x 6 inches, and less than an inch high, the Arc (available for $59.95) will fit almost any lap and can be carried in the average back pack.
Both options allow you to sit up to 30 feet away from the computer screen, or connect it to your TV for the ultimate gaming experience.
9.     Mimoco Mimobot Flash Drives
A flash drive is an extremely important device for students, but what happens when you lose it?  A memorable flash drive will help you get your device back quickly, because people will remember who owns the flash drive that's way cooler than their own.
Similarly, everyone will remember who owns the Mimobot. Fortunately, there are hundreds of models available based on characters from popular media. You can get a Klingon, Eric Cartman, the Joker or Twilight Sparkle as a few examples.  Mimobots range from 8GB to 128 GB, depending on the character you've selected. Some even support USB 3.0, with prices starting at $24.95.
10.  Ginger Labs Notability/Harvard SW Notes Recorder Apps
There are a lot of note-taking apps available, and many students enjoy taking notes on their tablets and smartphones. However, we like these specific apps for their ability to record audio while you're taking notes.
Both of these apps have the ability to sync your typed notes with the recorded sound. Touch a word in your notes, then listen to what was being said at that exact point; a great feature for recalling lectures. They both provide drawing tools, so your notes can contain diagrams and sketches.
Notes Recorder is available for Android ($2.99) and Notability is available for iPhone and iPad ($2.99). With Notability, you're able to incorporate photos taken with your iDevice. Notability also allows you to open Word, PowerPoint and PDF files for annotation.